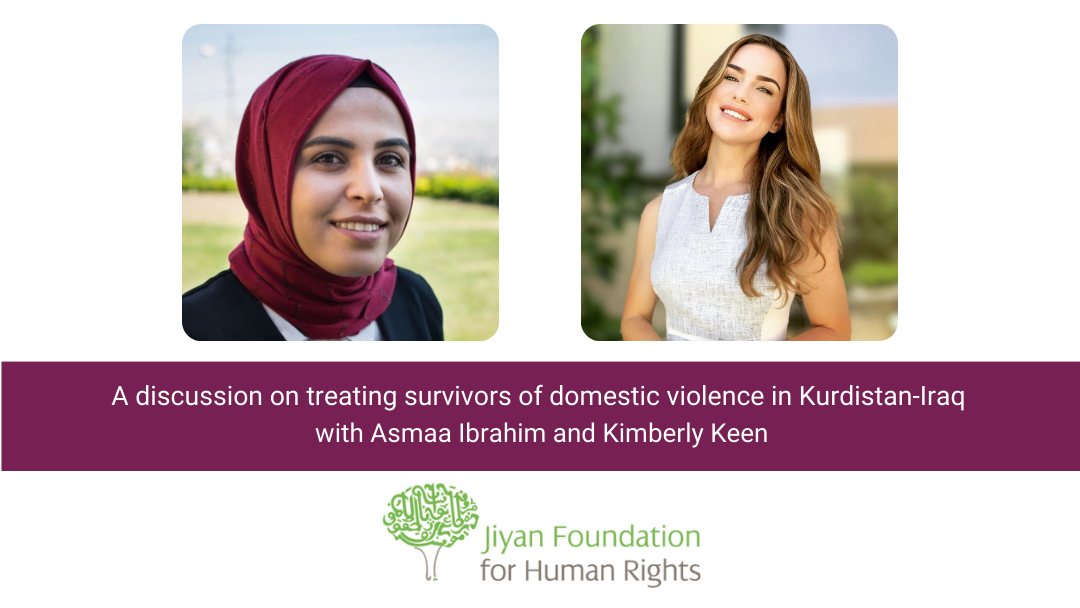 K. Keen: Ms. Ibrahim as Co-head of Trauma Care and Health and a psychotherapist at Jiyan Foundation you have a lot of experience treating survivors of domestic violence (DV) in Kurdistan-Iraq. Can you tell me a bit about the clinics and services run by Jiyan Foundation?
A. Ibrahim: Jiyan Foundation has opened the first inpatient clinic for women – and in particular, Yazidi women – in all of Iraq. The women who come to us take part in a four week program, where they and their children live at the clinic. During their time here, our female patients receive social support, physiotherapy, psychiatry, and medical services. It's the community that is really irreplaceable and can't be mimicked by short-term therapy or at-home treatment. The women can also participate in everyday activities like cooking, baking, lunches, and even some shopping. The therapy sessions were specifically developed by Jiyan with the goal of providing long-term mental health stabilization for women and their children.
In all, Jiyan Foundation operates nine outpatient centers in Kurdistan-Iraq, Iraq, and Syria which are dedicated to providing mental health support for survivors of violence, terrorism, war, and genocide. All of Jiyan Foundation's services are provided free of charge and encompass a holistic approach to recovery.
K. Keen: What part of the counseling process that you provide with Jiyan Foundation are survivors most resistant to?
A. Ibrahim: It's more of a lack of understanding of the type of therapy that Jiyan provides. Our counseling and psychotherapy is psychoeducation. It's difficult for the survivors who lack reading and writing skills because they have a much longer road in gaining trust. People are more inclined to take medication over psychotherapy. This is in part because taking medication requires less effort and provides quicker results than the psychotherapy process, which needs long-term commitments. There is cultural acceptance of treating physical pain, while there is still a stigma around treating mental health. This stigma prevents people from even admitting they may need assistance.
K. Keen: How have you helped survivors of DV overcome the stigma surrounding mental health?
A. Ibrahim: The treatment and support we provide to survivors are unique to every case. We usually start by teaching about the psychotherapy process, giving psychoeducation to the patients, and addressing their own prejudices of having a psychological problem, and seeking mental health support.
Survivors of domestic violence continue to endure verbal and non-verbal abuse in their own communities. Unfortunately, this type of abuse is accepted as "normal" and the status quo dictates survivors should stop complaining about their abuse. It takes courage to stand up to this behavior. Married women are especially at risk of community abuse because they are often blamed for divorces and are the victims of character assassination by other community members.
As part of survivors' treatment plans, we invite the patients' families to join some therapy sessions and also provide them with information about psychotherapy and the healing process. Jiyan Foundation's staff also conducts ongoing sessions for all community members to raise awareness about human rights, mental health support, and legal rights. This is part of our regular advocacy in the region.
K. Keen: How do you think we (the general public) can help survivors of DV, especially if we don't live in the region where you work?
A. Ibrahim: We need to first try to understand the survivor's individual experiences and be committed to supporting their mental health needs. We also need to address our own biases around mental health and talk about our cultural differences and the complexities that go with them. There is a need for us to recognize the global impact that mental health has on security and our ability to process information. Public and private agencies should commit to providing long-term support to civil society organizations such as Jiyan Foundation so that we can continue our work in helping survivors. Recovery from domestic violence and trauma requires sustained treatment.
K. Keen: What is something unexpected that you've learned about the survivors you work with?
A. Ibrahim: I have learned and personally seen just how transgenerational trauma can affect survivors of domestic violence and their children. This type of trauma is empirical behavior that passes from generation to generation. It can be paralyzing, rage-provoking, and hard to control. Once it takes hold, this type of trauma manifests in many different forms, including shaping behavior and personalities across generations. That's one reason we bring children to the women's clinic. The abuse suffered by a mother or a parent can transmit to their children through the communication of those experiences.
K. Keen: What are your goals for Jiyan Foundation in the next 5 years?
A. Ibrahim: Jiyan Foundation works in difficult places – Kurdistan-Iraq, Iraq, and Syria – where mental health treatment is often hard to come by and misunderstood. We are at a critical juncture in our development, where we can become a stable institution for survivors and the region. We want to be a beacon for women and survivors to get help, learn, and be empowered to take their lives back from their abusers, but we cannot do it alone. I hope the public and institutions realize the global benefit of providing psychotherapy to survivors so that they may become mentally strong and financially stable. I urge people to support Jiyan Foundation for Human Rights and bring dignity to survivors.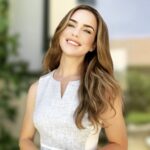 Kimberly Keen is a family lawyer in San Diego, California. She holds a juris doctor from the University of San Diego School of Law and studied international human rights at the University of Pennsylvania Carey Law School. She is a human rights advocate with Jiyan Foundation and champions all things women's empowerment.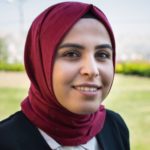 Asmaa Ibrahim is Co-head of Trauma Care and Health at Jiyan Foundation for Human Rights and assistant lecturer at the Institute for Psychotherapy and Psychotraumatology at the University of Duhok in the Kurdistan Region of northern Iraq. Ibrahim is one of the first to graduate from the master's degree program at the Institute for Psychotherapy and Psychotraumatology in Dohuk. After graduating, Ibrahim began to work in Jiyan Foundation's clinic where women who had severe mental disorders, survived trauma and violations from war were treated. She has recently written on the need for continued and sustainable mental health and medical support by the United States for survivors in Iraq.