The Trauma Clinic for Yazidi Women
Meeting the needs of survivors in Kurdistan-Iraq
The women who come to our center were kidnapped, bought and sold, raped, and tortured. Since the end of the horrific regime of Saddam Hussein and more recently the ISIS war, violence has persisted in the region. Many women and children require specific mental health treatment to address post-traumatic stress disorder and somatic symptom disorder in a safe place. The overwhelming number of these cases are women from the Yazidi faith. 
Built in response this need, Jiyan Foundation opened the first-ever Trauma Clinic for Yazidi Women (Women's Clinic) in the country. Female survivors of violence and abuse, together with their children, take part in a specialized four-week program where they engage in individual and group psychotherapy, community living and live-in support.a
All of Jiyan Foundation's services are provided free-of-charge.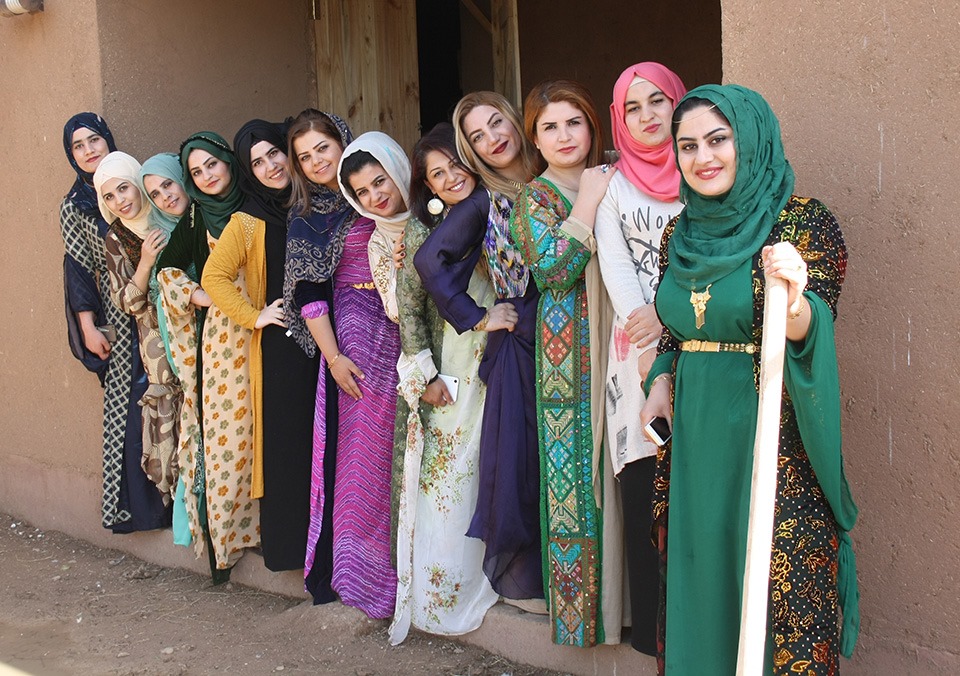 Jiyan Foundation's all female staff standing outside the Healing Garden, located only a short walk from the Womens' Clinic where women and their children stay for long-term treatment.
The stabilization program at-a-glance
Women and their children engage in a four-week stabilization program to address somatic symptoms.
Psychoeducation about somatic symptom disorder, mental health and psychotherapy.
Patients engage in garden, art, play, group, and individual therapies.
During the four weeks women and their families are provided with food, necessities, and a community of support by specially trained all female staff.
After the four-week program, women and their families return home to continue long-term psychotherapy treatment at a local Jiyan Foundation treatment center. The patients' families are also provided with information and opportunities to further understand their loved one's condition.
What is trauma, and how can we recognize it?
Trauma is an emotional and psychological response to a terrible experience that put you or someone close to you at risk of serious harm or death. In response to these experiences, people often subconsciously develop various ways of coping.
Some individuals may exhibit symptoms associated with post-traumatic stress disorder (PTSD), others will exhibit brief subclinical symptoms or consequences that fall outside diagnostic criteria. It's essential to recognize that trauma affects everyone differently and can manifest in one-time, multiple, or long-lasting repetitive events.
The impact of trauma can be subtle, insidious, or outright destructive. How an event affects an individual depends on many factors, including individual characteristics, the type and characteristics of the event(s), developmental processes, the meaning of the trauma, and sociocultural factors. Many of the women who seek treatment at Jiyan Foundation's Psychosomatic Trauma Clinic are suffering from somatic symptom disorder.
What is somatic symptom disorder?
Somatic symptom disorder is when psychological trauma or a mental disorder manifests as physical symptoms. Often characterized by extreme pain or fatigue, somatic symptom disorder causes major emotional distress and problems functioning in daily life. Usually, individuals suffering from somatic symptom disorder seek out medical treatment to address their physical distress. 
This is a project of Jiyan Foundation's
Program for Trauma Care & Health
Stay in touch with the women's clinic and other projects, join our newsletter.