Jiyan Foundation Hosts First Academy for Peace and Dialogue in Kurdistan-Iraq
Photo: Participants of the Youth Network for Peace and Dialogue – an ongoing cooperative project with Wings of Hope Germany funded with support from Misereor and the Evangelical Church in Hesse and Nassau (EKHN).
Together with Wings of Hope Germany, the week-long program brings together young peace activists from Kurdistan-Iraq.
Jiyan Foundation for Human Rights and Wings of Hope Germany will host the first Academy for Peace and Dialogue, a week-long program taking place October 21-28, 2021 in Dokan, Kurdistan-Iraq. The first-of-its-kind workshop is expected to have 20 youth between the ages of 18 to 28. The activists come from diverse ethnic and religious backgrounds and different regions of the country. The goal of the hosts is to bring them together to learn from and with each other on how to live jointly in peace and diversity and how to shape and continue intercommunity dialogue in a productive way.
Diversity in Kurdistan-Iraq
Kurdistan-Iraq is a multi-ethnic and multi-religious society. Because of this diversity, the society can be a good example of peaceful coexistence and dialogue in a region where mistrust between communities continues to exist. However, the region is part of a war-torn country and is marked by violence and conflict. The different communities have repeatedly inflicted numerous injuries and traumas on each other over the past decades – a process that is still ongoing in some cases. Our project aims to counteract these developments.
Interreligious Dialogue and Workshops
Among some of the workshops, the Academy for Peace and Dialogue offers is a daily Interreligious Impulse program that asks every participant to share passages, quotes, and sayings from their religions on topics such as peace, dialogue, and truth. Other workshops during the eight days include learning and discussing diversity, lectures, group presentations, theatre units, hikes, visits to local ethnic and religious sites, games, and a communal cooking activity. 
The participants have already attended four online sessions in February. One of the participants said, "We have many houses of prayer of the different communities and we celebrate and mourn together." This diversity will now be practiced in an intensive encounter week.
"This program is born from the success of our Youth Network for Peace and Dialogue and our previous Summer academy programs in Germany, where we saw intellectual growth of the participants, many of whom have gone on to lead in their own communities and engage with leaders to promote peace."
Program Schedule
On October 27, the Academy will host a public event at the Ashur Resort in Dokan which will include a play directed by Dr. Hawre Zangana, a Kirkuk-born social psychologist and expert for theater arts and inter-religious dialogue. During the event, there will be an opportunity to ask the participants about their experiences with the issues of diversity and peaceful coexistence in Kurdistan-Iraq.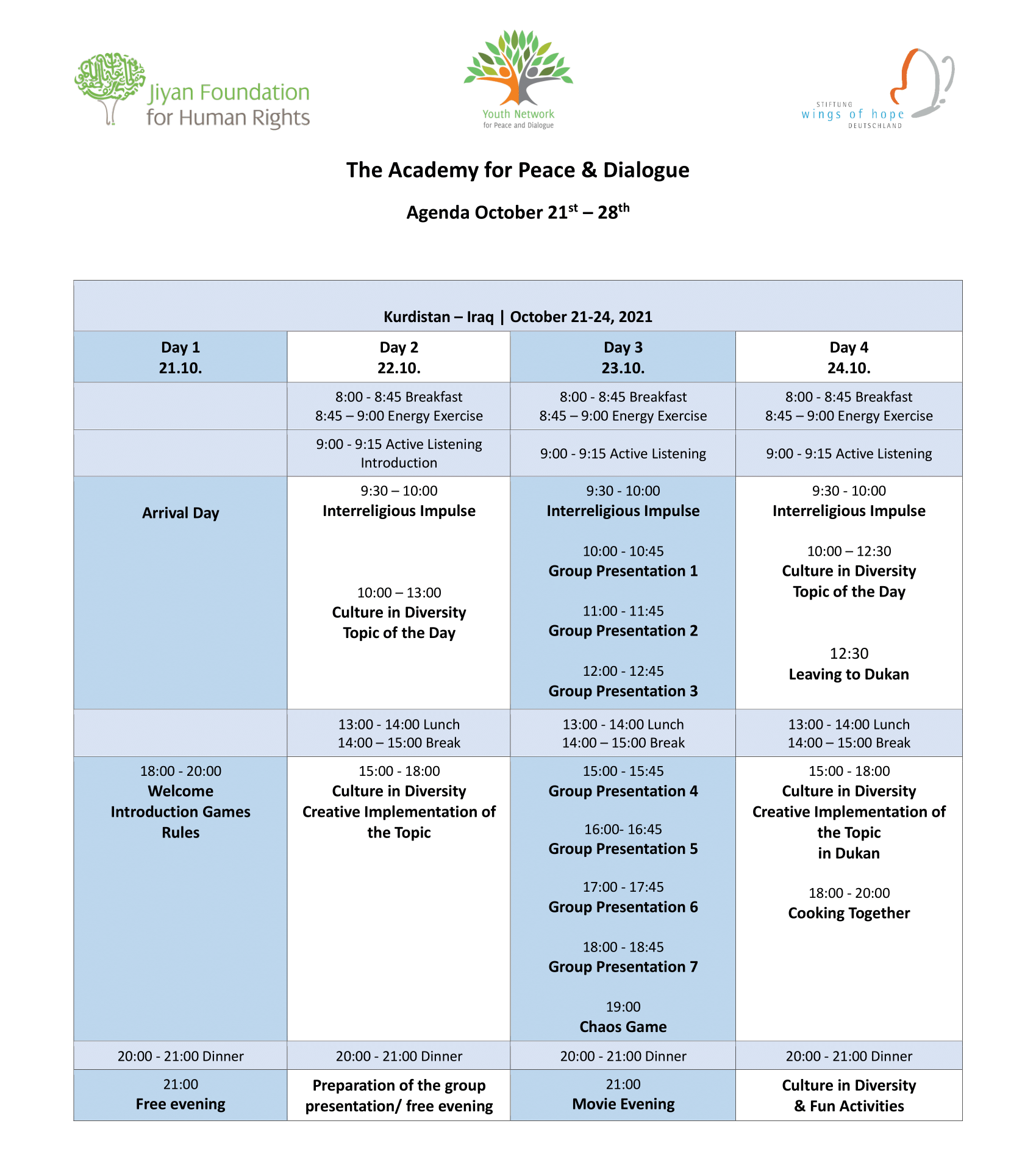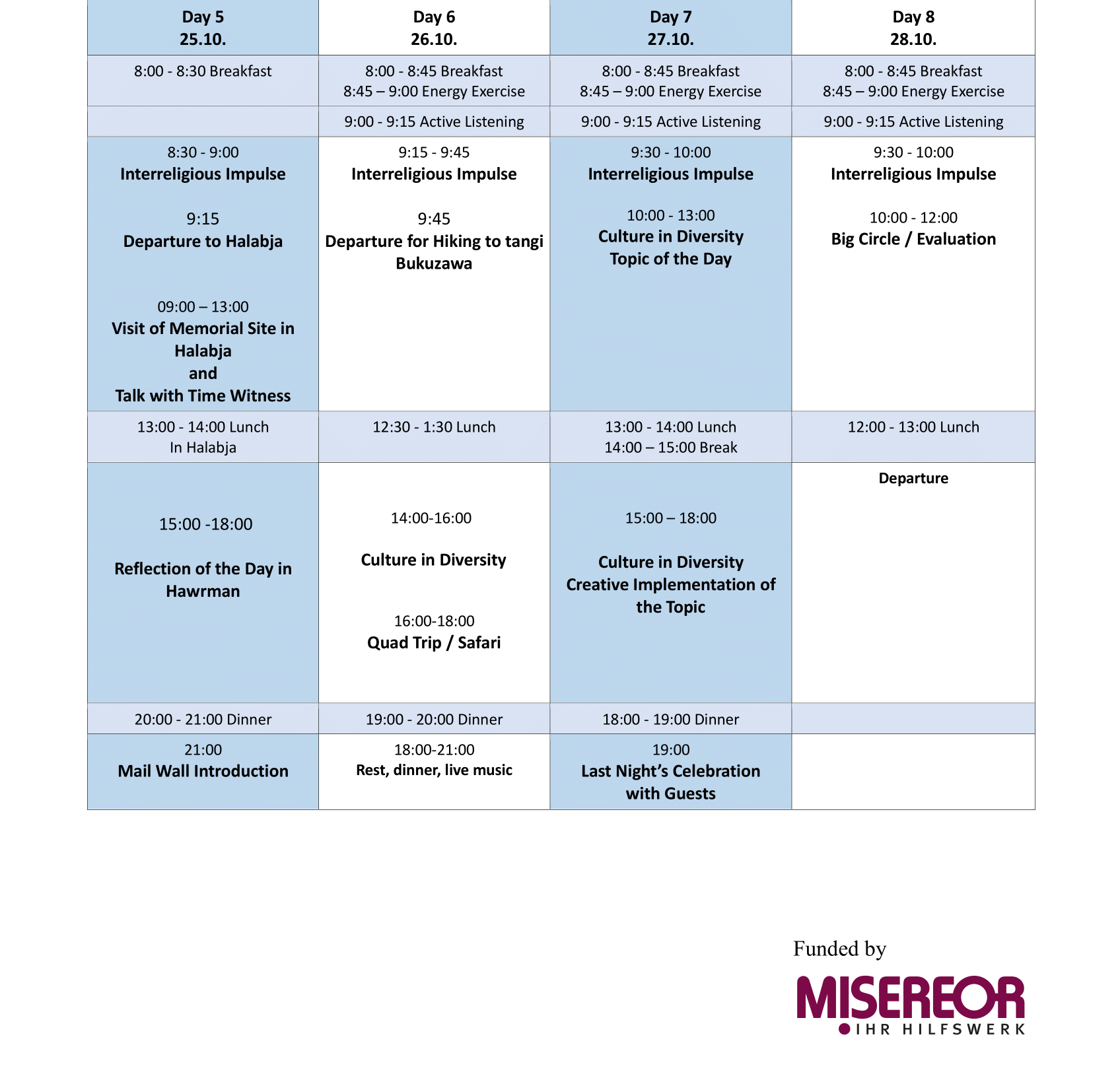 The Academy for Peace and Dialogue is a project of the Jiyan Foundation for Human Rights and Wings of Hope Germany. Jiyan Foundation for Human Rights supports survivors of human rights violations, promotes democratic values, and protects fundamental freedoms in Iraq, Kurdistan-Iraq, and Northern Syria. Wings of Hope Germany supports people who made traumatic experiences, especially children and young people, their families, and their support systems out of the trauma of violence. The main two pillars of their work are psychosocial support and peace & dialogue work. The project is funded by MISEREOR and the Evangelical Church in Hesse and Nassau (EKHN).
Support interreligious dialogue and diversity in Kurdistan-Iraq