🧠 Mental Health Awareness Month - Every Month
"Providing safe spaces to talk about our mental health is the responsibility of everyone. Every individual, family, employee, and community member must be concerned about physical and mental health protection to build a healthy society."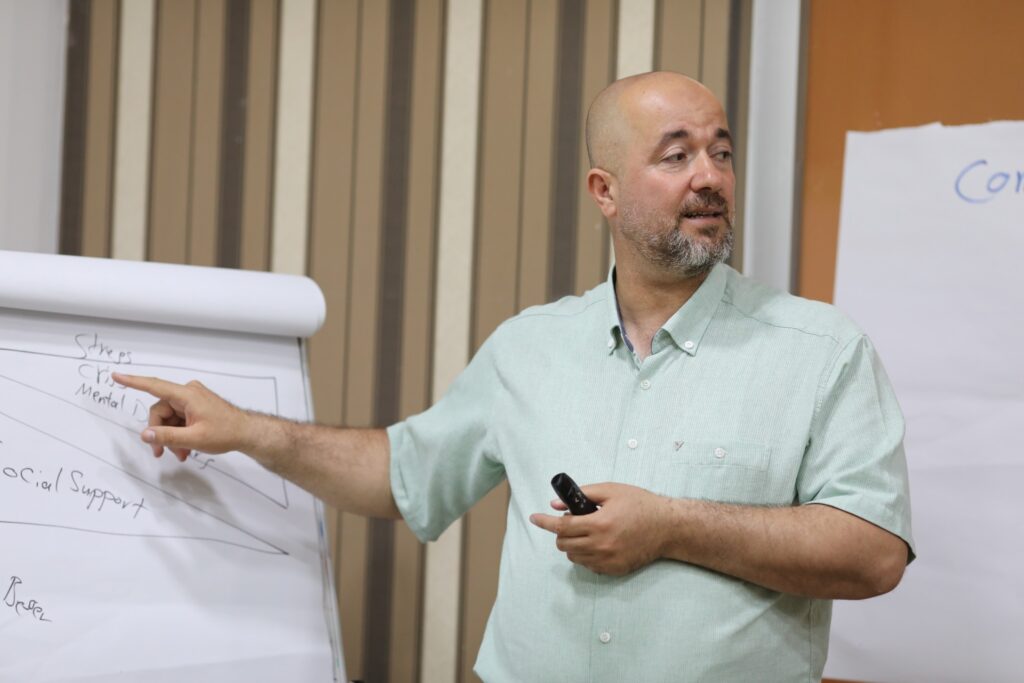 Every month is Mental Health Awareness Month at Jiyan Foundation for Human Rights. In addition to our ongoing psychotherapy work, we have implemented several new training programs designed to build local capacities and provide much-needed awareness to youth in the region.
From May 9th to 11th, our senior psychotherapy staff conducted a comprehensive three-day training for community facilitators and paralegals in Sulamaniyah. The training is designed to empower our staff with knowledge of some psychological symptoms and conditions our clients may face. This training equips our legal team with the necessary know-how to effectively support and assist our clients throughout the implementation of our projects. This project is generously funded by Misereor.
Since March, we have continued training 19 local staff in psychotraumatology modules across the region and conducted a 10-day training program called FOR-NET to treat trauma spectrum and offenders for 15 other mental health professionals from Yazda and Jiyan Foundation for Human Rights.
Mental Health Awareness and Human Rights for Children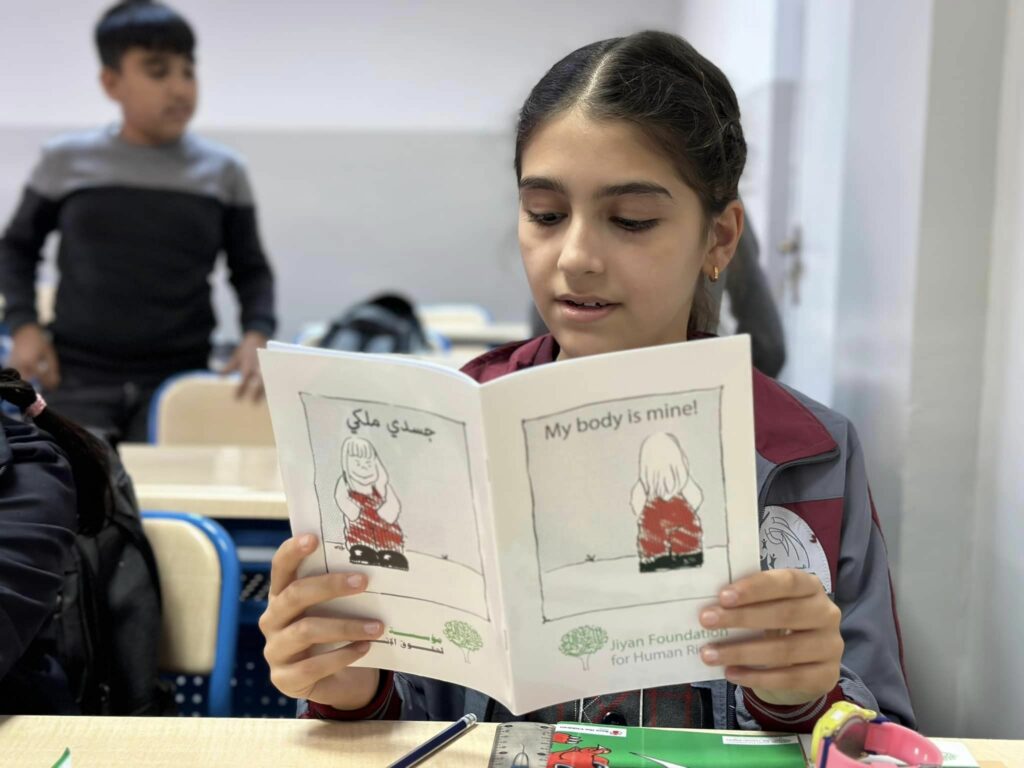 Our local teams have begun implementing awareness sessions for fourth and fifth-grade students on the impacts of domestic violence and bullying on mental health. These awareness sessions focus on four major concepts – equality, freedom, respect, and non-violence. Through these awareness sessions, students receive valuable insight on how to protect themselves and find assistance if confronted with violence or sexual assault, knowledge of their fundamental human rights, and tools for building cooperative, non-violent relationships with people of different backgrounds.
All students receive take-home materials, which they can share with friends and family. In each session, our trainers emphasize the impact individual behaviors can have on their mental health and their communities. These awareness sessions have been conducted in Baghdad and Arbat Refugee Camp in the Sulamaniyah region.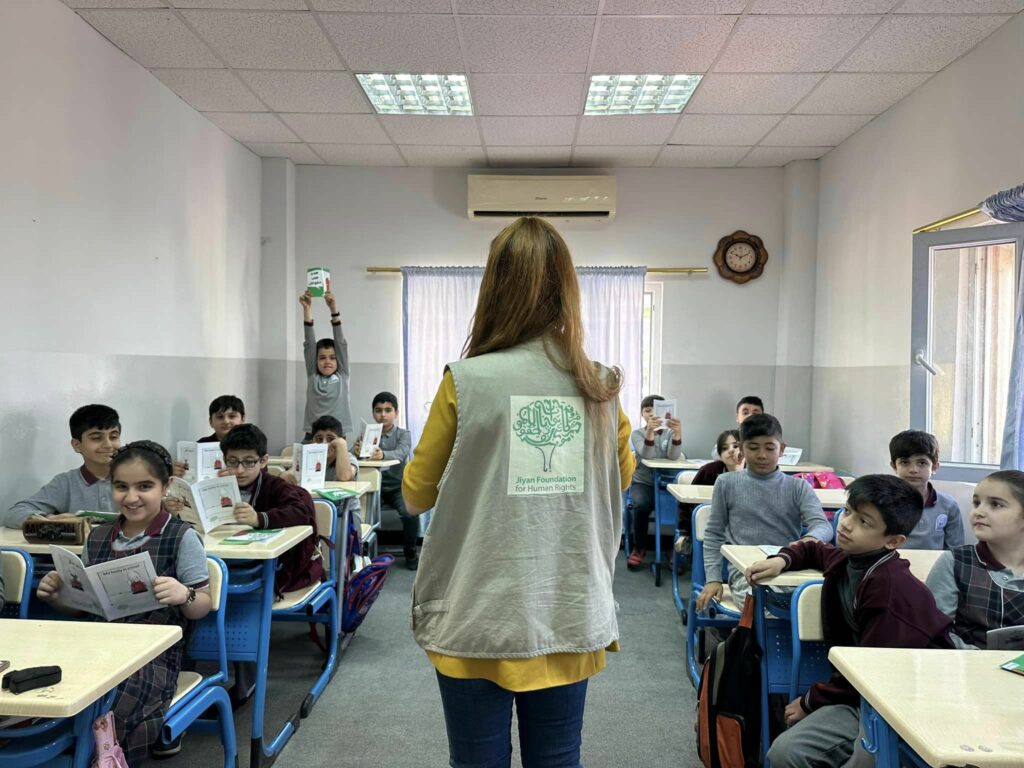 Support Mental Health Awareness Month - Every Month
Psychological trauma can affect individuals for their entire lives. Our goal is for every client to lead a fulfilling life free from the constraints of sustained mental trauma. The diversity of our psychological treatment services reflects the diverse populations and struggles we see within our communities. Monthly gifts allow us to better plan our services and save money in the process. Please consider giving just $5 a month to provide sustainable psychotherapy and mental health awareness programs in Kurdistan-Iraq, Iraq, and Syria.
What are you waiting for?
For Iraq's displaced Yazidis, the genocide is ongoing | The New Arab
"It's quite unfortunate that the Yazidis, which are our neighbours…they will become very few in Iraq just like us," said Wansa Shamoon, from the Jiyan Foundation for Human Rights in Duhok, which promotes the mental well-being, physical rehabilitation, and social reintegration of survivors and their families.
She herself is a Christian whose family also fled IS in 2014. Not only IS, but recurrent violence and pervasive discrimination have pushed a dramatic emigration of Christians out of Iraq in the past two decades.
The decline of both the Christian and Yazidi communities follows a pattern of minority expulsion. In the 1940s and 50s nearly all Iraq's Jewish population left the country.
"My grandmother was always saying: 'the Jewish told us when they left Iraq, Sunday is just after Saturday,'" Shamoon recounts.
She believes the Christians and Yazidis share a mutual story in many ways, both enduring repeated genocides over the generations, both ancient religions born in the region and faced with losing their roots.
"[Iraq] is their country, it's their soul, it's everything culturally, emotionally connected to them, but they have to choose between having safety without home, or living in your home while it's not safe."
Read the full story: For Iraq's displaced Yazidis, the genocide is ongoing (alaraby.co.uk)
Iraq must identify way to provide justice for victims of ISIS: C4JR | Kurdistan24
The Coalition for Just Reparations (C4JR), an alliance of Iraqi non-governmental organizations (NGOs), in a position paper on Monday called on the Iraqi government incorporate genocide, crimes against humanity and war crimes into national law and prosecute ISIS fighters for their crimes.
Moreover, it called for the establishment of a "survivor-friendly criminal accountability mechanism meeting international standards with jurisdiction over international crimes committed by ISIL (ISIS)."
"This unique position paper on a survivor-centered ISIL accountability mechanism in Iraq is an excellent opportunity for the Iraqi government and the international community to achieve justice for survivors of ISIL violence," ​​Wansa Shamoon, the spokesperson for Coalition for Just Reparations,  told Kurdistan 24.
"The C4JR and its member organizations invite interested parties and stakeholders to consider the principles and suggestions outlined in this position paper on a Survivor-centered ISIL Accountability Mechanism."
Read the full story: Iraq must identify way to provide justice for victims of ISIS: C4JR | kurdistan24.net)